Hey there guys! Welcome to Daydreaming Discussions. This is a monthly feature created by me where I discuss anything bookish related or sometimes it might be about any non-bookish things as well. Also, be prepared for a lot of ramblings and rantings and you're very welcome to be a part of the discussion.
Today I wanted to talk about-
In June's Daydreaming Discussions, I discussed the physical aspects of my bookish pet peeves. So, today I wanted to discuss the bookish aspects, aka the things in the story that can quickly turn me off which also causes me to lose interest in a particular story. So, here's my list!
1. Trigger Warning
This is of utmost importance. This helps the people who are sensitive to particular subjects an option if they want to read that content or not. I have read quite a few books which dealt with sensitive topics yet there were no warnings before hand and that is not acceptable. Some didn't affect me and some did and the results were not pleasant. So, I hope that from now on books which deal with such topics should definitely contain a trigger warning.
2. More girl love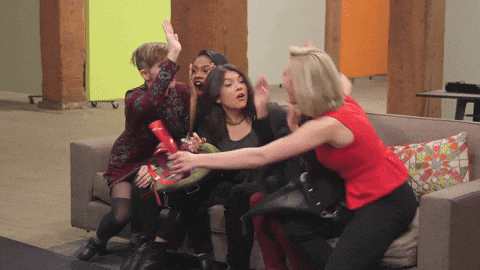 There are not enough strong and positive female friendships, especially in YA. One of the most common patterns of girl on girl hate is because they have feelings for the same boy and they are ready to go to the utmost limit to get what they what. How about some dignity? *sighs* Anyway, this is something I really hate and it's pretty much common in every book. Another one is the Queen bee who manipulates other girls according to her own needs. I am seriously sick of this trope. Of course, there are books which have beautiful female friendships but we need more! I need more books where girls are there for each other and who would better understand them than other girls. Instead of using that for negative advantage, this trope should be used in a positive way. I think not only me, but most of us would appreciate it.
3. Love triangles
If you have been following my blog for some time now, you will know how much I despise love triangles. I haaaate it. Usually, I tend to avoid books with love triangles but I can't rule out all of them. I hate when a person can't decide who they really love and string along both of them sometimes. I don't enjoy this particular indecisiveness.
4. Platonic Relationships
A boy and a girl can be friends without falling in love. This is seriously so rare. Most of the time there are multiple boys falling for the same girl because she is just extraordinary, gorgeous, beautiful and blah blah blah. How about some realism? This doesn't happen in real life at all !! I really, really hate this trope. Why can't they show a beautiful friendship between a boy and girl without any romantic relationship? And even if there is a friendship like that, most of the time the male character is gay. Is it so hard to be friends with the opposite sex with being straight? I simply don't get it.
5. Immature/Absent Parents
Why? Oh, why? This is also something, especially common in YA. Most of the times either the parents are dead or they are immature like a 1-year-old. Seriously? I don't understand how parents can be represented in a negative light all the time. Okay, I understand there are some people who don't understand their own child but not every freaking one is like that. There is rarely any book where I find a healthy parent-child relationship, though lately I have read a few which had some decent parent-child relationship but we need more!! Anyway, a parent is one of the root cause how a child grows up, they are the building blocks. They help us understand a lot of things and guide us into a whole new world. The parents in the books are either too selfish or too strict to care about their child's need. But they are an essentially important part in every child's life and I can't understand how this crucial aspect can simply be ignored just like that.
6. Killing off the main character
Ugh! The worst! Authors love killing off their darlings but when they kill off the main character, it is simply too much for me. It leaves a sour taste in the mouth and I would never ever pick that series up again. I got spoiled for two series in which the main character is killed off in the end. Whereas I didn't pick up the one series but I already started the other one but now I am reluctant to continue it.
7. More focus on physical aspect
I do not appreciate when a character falls in love with the other just because he/she is freaking gorgeous. I read quite a few books and that is quite disturbing. What about how he/she actually is as a person? I am someone who suffers from body image issues and when I read this stuff, it makes my self-confidence lower. I particularly remember a book where the girl continued to think how hot the guy was throughout the book and I just wanted to throw away my e-reader. Seriously? It's not only cliched but not body positive either.
8. Pacing
I am going to end this on a lighter note. XD But pacing is one of the most vital factors which affects my reading in a major way. If the pacing is slow I lose interest quite fast, even if there is something awesome later on but my attention is already wavering, it'll also end up affecting my rating for that book.
---
So what do you guys think? Do you agree with any of these? Have you felt the same problem as me?