Hey, guys! Welcome to Blogger Spotlight. This feature is going to contain interviews, guest post, and other fun stuff! So stay tuned for more fun in the future.
For this month's edition, I bring you a guest post by Sophie @ Beware Of The Reader. Don't forget to check out her awesome blog!
---
A huge thank you to Poulami for her invite to post on her blog!!!
I follow her for months now and love it here 😀 I love her honest reviews, I love that we often share the same interest in books, I love her discussions, I love ….well everything in fact!
So thank you to host this post today.
I did not want to bore you readers to death and I thought I would come with something hopefully funny. I try to use humor as often as possible in my reviews, interviews and discussions.
So today's post is something fun about … Superreader!
Enjoy!
Are you a Superreader?
Are you a Superreader? THE ONE every reader is looking at? To earn your black belt Superreader you have to meet many requirements. Let's see how many boxes you'll be able to cross. Shall we?
1. A Supereader is known to live dangerously:
√ Readwalking is a hazardous activity between avoiding potholes, crosswalks, holes. You may end battered and bruised all for the glory of reading!
√ Reading in the bath has recently become a very dangerous behavior since the venue of the e-reader. Electricity and water don't mix well. In the best case, it can have a surprising effect on the hair and you would end up looking like this:
√ Reading while cooking asks for multitasking and dexterity or risk several burns. Fire can occur in some extreme cases so Superreader usually needs a very good insurance.
– Reading while walking your dog can also be strenuous depending on your dog's strength and his or her self control at the sight of a cat or a rabbit. You have to prepare for hasty starts and losing your balance. Burnt skin is not unusual when a Superreader protects his or her precious book while falling.
2. A Superreader is fit.
– A Superreader builds great balance reading when standing in moving vehicles be it the bus, the train or the subway. Depending on the driver's dexterity and level of stress abdominals and thighs muscles will be heavily solicited.
– You would also possess arms as strong as builders. Reading big books while laying in bed makes for strong arms.
– Shopping bags filled with your last book haul also helps building the back and arms muscles. Moving companies can concur: the heaviest boxes are filled with books.
– A Superreader also possesses incredible stealth. It comes with walking like a ninja on the train gate, hiding behind pillars just to avoid colleagues and friends, commuters in the car. You would make a great spy blending in your environment just to be left alone and read.
3. Other distinctive features:
– Superreader is often is short sighted wearing glasses as very long reading times tire the eyes.
– You would morph into a ferocious beast if you are interrupted in your read. Or you have incredible self-control. Or your mom raised you well. Or you are NOT a Superreader 😀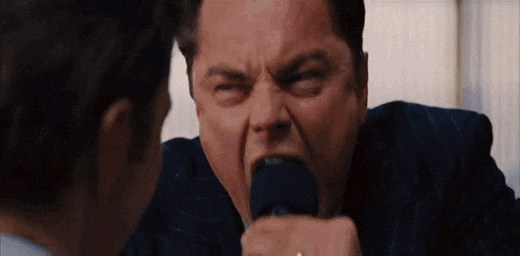 – A Female Superreader is also known for sporting the Panda Look. It happens after ugly cries with very emotional books. Mascara is running on your cheeks. Waterproof mascara would be a good investment.
You would be usually very friendly with the postman as book mails are the best surprise. You have to make sure the books will be delivered safe and sound. A vengeful postman is to be avoided at all costs! Another cup of tea? Or coffee?
– A Superreader is also known to be a collector. You are always is in need of new shelves for your ever growing book collection. "Honey, are you busy this weekend? I need new shelves…". Recently said collection has been proudly displayed thanks to bookstagram. As a Superreader you love making other readers drool at the sight of your impressive book collection.
– You are very easy to please (take this comment as you like 😉 ). Your ideal Christmas/Birthday gift is a gift card at your favorite bookstore. Or a trip to said bookstore. If your soulmate is going with you make sure to find a plush sofa somewhere and maybe some biscuits or coffee for him. Fewer complaints and more chance to come back!
4. Fellow Superreaders have their secret languages while crossing other Superreaders.
The rise of an eyebrow means "What are you reading?" followed by the show of the cover.
A chin rise means "So is it good?" And is answered by a corresponding nod of the head.
Now tell me: how many requirements could you meet? Do you see other interesting habits/characteristics a Superreader possesses? 😀
Thank you for reading.

---
Blogger Bio:
I fell in love with books since a very young age. I'm very busy, like all working mom with teens and furry friend but a day without reading is a wasted day.
I read every single day, everywhere. I need it as much as breathing. I've even mastered the art of readwalking (no bruises yet)! I commute daily and people on the train are used to that mad woman either laughing alone or crying ugly tears.
Two friends urged me to create my blog nine months ago and I never would have guessed that blogging was so much fun!
I love reading and reviewing of course but also chatting with other bloggers and interviewing authors. Helping authors to be better known and communicating my passion for books with other bookworms is why I blog.
I try to keep everything light and funny as the blog is my little haven and I hope maybe yours.
Find her at:
Website || Facebook || Bookstagram || Twitter || Goodreads
---
So guys! Wasn't this post super fun? Let me know in the comments!